CrumRubber™
"Air Clean offer proven, proprietary clean air bio-technologies, which provide best-in-class process performance with the lowest utility and life cycle costs"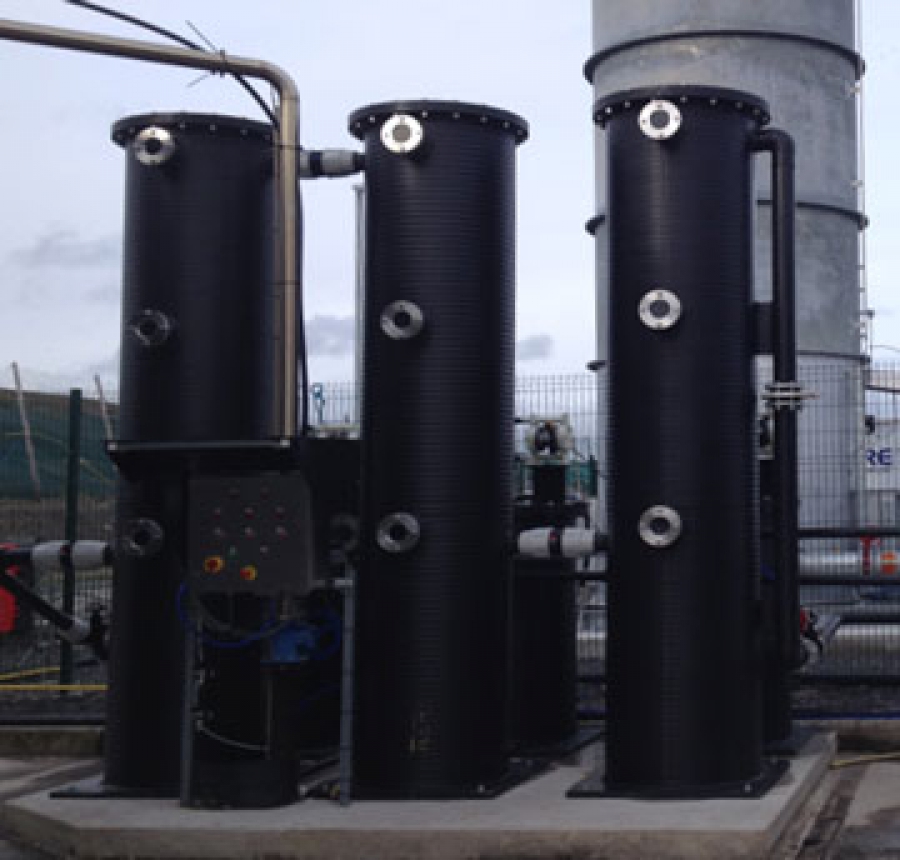 BIOGAS PURIFICATION AND H
2

S REMOVAL – DESCRIPTION

CrumRubber™ patented technology is a biological system which utilises inorganic filtering media and specialized bacteria to remove high level of H2S converting it into sulphate.

The technology has been studied to reduce gases concentration prior to combustion gas engine in order to preserve its availability (time life), increase oil change and decoking intervals and reduce reliance and costs associated with frequent activated carbon change outs.

Typical removal efficiencies for levels of H2S from 10 to 4000 ppm ranged till 98%. CrumRubber™ technology could be also suitable as pre-treatment stage of traditional air treatment solution for removal of chemical compounds as ammonia, amines, VOCs and odor.

The filtering media could be regenerated by continuous or intermittent flushing with water. CrumRubber™ can be supplied as a skid-mounted modular system made by high grade corrosion resistant material equipped with removable covers for media replacement.
| | |
| --- | --- |
| TYPICAL APPLICATION | BENEFITS |
| BIOGAS CLEANING | LONG MEDIA LIFE (15 YEARS +) |
| LANDFILL GAS CLEANING | HIGH REMOVAL PERFORMANCES OF HYDROGEN SULPHIDE |
| BIOMETHANE PRODUCTION | HIGH REMOVAL PERFORMANCES ON BROAD RANGE OF COMPOUNDS |
| SYNGAS CLEANING | LOW AIR PRESSURE DROPS |
| MINE GAS CLEANING | LOW RUNNING COSTS |
| SLUDGE PRODUCTION AND TREATMENT | LOW MAINTENANCE |
| WASTE WATER TREATMENT PLANT | LOW WATER CONSUMPTION |
CrumRubber™ Biogas Treatment and Product Selection Considerations

Compound
Concentration Range
Removal Efficiency
Odor
N/A
N/A
H2S
0-2000 ppm (4000 ppm max)
85 - 95%
VOC's
N/A
N/A
Reduced Sulphur Compounds
N/A
N/A
Amines
N/A
N/A
Ammonia
N/A
N/A
CrumRubber™ Air Treatment and Product Selection Considerations

Compound
Concentration Range
Removal Efficiency
Odor
1000 - 10,000,000 OUE
90% +/td>
H2S
0 - 500 ppm (1000 ppm max)
95% +
VOC's
0 - 100 mgC/m3
50%
Reduced Sulphur Compounds
0 - 50 ppm
98% +
Amines
0 - 10 ppm
98% +
Ammonia
0 - 20 ppm
95%